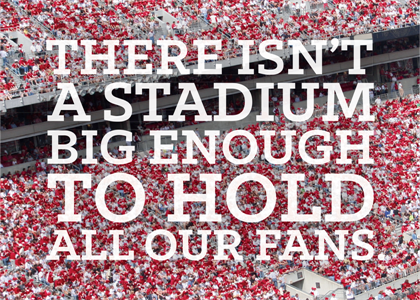 Announcements
2021 Buckeye Football Ticket Winners Announced
Ohio's 529 Plan, CollegeAdvantage, awarded tickets to four lucky Ohio State football fans to see the Buckeyes play in Ohio Stadium this season. This ticket giveaway was held through our Facebook page. The giveaway was open to both Ohio 529 Plan account owners and non-account owners.
The randomly selected winners are:
Grand prize winner: Julie Henson, Westerville, OH
Second-place winner: Anthony Harris, Cincinnati, OH
Third-place winner: Ben Fisher, Springfield, MO
Fourth-place winner: John Cunningham, McDonald, OH
As the grand prize winner, Julie won a pair of season tickets to all the Buckeye home games. The second-place winner, Anthony, received two tickets to each of the following home games: Penn State on Oct. 30 and Michigan State on Nov. 20. As the third-place winner, Ben won two tickets to each of these home games: Oregon on Sept. 11, Tulsa on Sept. 18, and Maryland on Oct. 9. The fourth-place winner, John, received two tickets to the home games against Akron on Sept. 25 and Purdue on Nov. 13.
Congratulations to all our winners! Thank you to everyone who participated. Would you like to win a college savings award for your own CollegeAdvantage 529 Plan? Sign up for email newsletter or visit our blog page page for announcements of upcoming giveaways.
Visit Ohio's 529 Plan online to start saving today for your child's future education. An investment in a 529 plan is an investment in your child where every dollar saved today is a dollar that doesn't have to be borrowed later. A 529 account can be used for whatever comes after high school. Learn, plan and start an Ohio 529 Plan today at CollegeAdvantage.com.
Posted on September 20, 2021