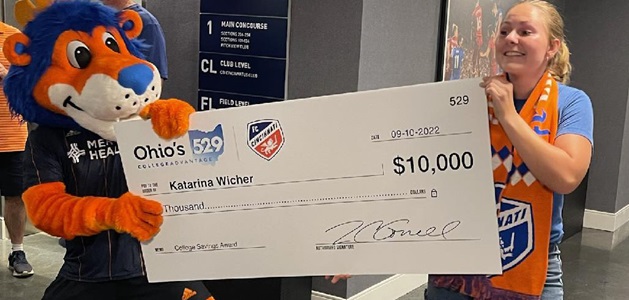 Announcements
Ohio 529 Celebrates FC Cincinnati College Savings Goal Winners
FC Cincinnati and Ohio's 529 Plan, CollegeAdvantage, teamed up to help fans of the Futbol Club and college savings score for their higher education goals.
One lucky FC Cincinnati fan received the grand prize of a $10,000 college savings award to open to a CollegeAdvantage Direct 529 account. The winner, Katarina Wicher, is planning to use the college savings award to pay for her graduate studies of sport psychology and rehabilitation at Pennsylvania Western University, California (PennWest California).
Katarina, her parents, Lisa and Marc, and friend, Malia Ferry joined Ohio's 529 Plan and FC Cincinnati for the award presentation at the resounding victory over the San Jose Quakes on Saturday, Sept. 10. The second-place winner, Michael DeCock, and third-place winner, Erin Sunderman, won FC Cincinnati prize packages.
Congratulations to all our winners! Thank you to everyone who participated! Would you like to win a college savings award for your own CollegeAdvantage 529 Plan? Sign up for email newsletter or visit our blog page for announcements of upcoming giveaways.
Visit Ohio's 529 Plan online today to start saving for your child's future education with as little as $25. A 529 account can be used for whatever school comes after high school—including four-year colleges and universities, community colleges, tech, trade or vocational schools, apprenticeships and certificate programs. Learn, plan, and start with Ohio's 529 Plan today at CollegeAdvantage.com.
Posted on October 13, 2022