In support of America Saves Week, CollegeAdvantage welcomes the opportunity to run the following guest blog from JanetAlvarez from Wise Bread.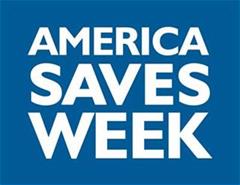 Most of us understand that saving regularly is one of the simplest ways to reach our financial goals, but we don't all take advantage of easy ways to automate our savings. As part of America Saves Week, we've devised a list of five automatic savings opportunities that are often overlooked. These go a step beyond mere automatic transfers from checking to savings. They're easy, straight-forward ways to save money automatically that most of us don't take advantage of yet, and they increase your chances of reaching your goals even faster.
1. Direct Deposit Your Tax Refund Into Savings
According to the IRS, the average American's tax refund now stands at over $3,100. Don't let that windfall slip through your fingers. Deposit all or part of it into your savings account, instead, and watch your money grow. Plus, the IRS allows direct deposits into one or more accounts, such as a checking and savings account, which means you can choose to spend a portion and save the rest. (I'd recommend saving all you can.) Conveniently, you can also direct deposit all or part of your refund into your Individual Retirement Account (IRA), or use it to purchase up to $5,000 in U.S. Series I Savings Bonds. You can split your refund using tax preparation software, or Form 8888, if you use paper filing.
2. Don't Forget Bonuses or Commissions
Do you get quarterly or yearly bonuses? Are commissions a part of your earnings? Then don't forget to direct deposit all or part of these funds into your savings. Consult with your employer about direct depositing the funds into your savings account, or set up automatic transfers from your checking to savings accounts when you expect the funds.
Another alternative? Increase the contributions on your employer-sponsored retirement plan, such as a 401(k), during those times you receive extra earnings. It'll help you max out your contributions faster and earn any applicable company match to boost your savings even further. Consult with your HR representative or your company's online retirement plan portal to manage your contributions.
3. Save Your Spare Change
Some banks and credit unions offer programs which automatically round up to the next dollar on any purchases you make, and transfer the spare change from your checking to savings account. These programs are free, and provide a fool-proof way to jumpstart your savings and always pay yourself first. You probably won't miss the spare change in your checking account, but your savings will sure be glad for the extra boost. Even small amounts saved over time add up.
4. Credit Card Rewards Can Boost Savings, Too
Many popular credit cards rewards programs offer several rewards options, ranging from airline miles or hotel points to cash back. Sadly, many credit card rewards perks often go unused, making them less than rewarding. But if you choose to receive rewards in the form of cash back, instead, many cards will deposit the rewards sum directly into an account of your choice. If you're limited to receiving the funds into checking, you can always transfer the funds to savings. Either way, you're boosting your savings painlessly. Don't forget to pay off the balance on your card at the end of every month to avoid costly interest fees, otherwise you'll spend more on interest than you'll receive in rewards.
5. Set Your Savings Rate Higher
So, you think you're a savings pro now that you've got regular transfers or direct deposits into your savings account? Well, you can go a step further still by periodically increasing your savings rate, whether to your employer-sponsored retirement plan or your savings account. Many 401(k) plans allow users to opt-in to periodic increases in their savings rates, such as a 1 percent increase in their contributions per year. If you prefer to contribute to a savings account or other savings vehicle, consider increasing your contributions regularly, such as every time you get a raise.
Having the foresight to automate your savings can help you beat temptation and stay ahead financially. And the techniques described above are easy ways to take your savings to the next level.
Janet Alvarez is the executive editor for Wise Bread and a contributor to TheStreet.com and U.S. News & World Report.

America Saves Week is coordinated by America Saves and the American Savings Education Council. Started in 2007, the week is an annual opportunity for organizations to promote good savings behavior and a chance for individuals to assess their own saving status.