When thinking of your child's future, you understand that a key to starting a successful career is a post-secondary education. Whether it's a two-year, four-year, graduate, technical, professional certificate, or apprenticeship, you know it would be best to start saving now to decrease student debt later. As you research tips for how to save for college, you may keep coming across 529 plans and wonder, "What is a 529 plan?"
Ohio's 529 ​Plan, CollegeAdvantage, was established by Section 529 of the Internal Revenue Code to encourage parents to save their children's future ​higher education costs in a tax-advantaged manner. CollegeAdvantage is Ohio's 529 college savings program. The tax benefits of opening a CollegeAdvantage Direct 529 Plan account are:
Tax-free earnings
Tax-free withdrawals
State of Ohio tax deduction (for residents of Ohio only)
​

1) Tax-free earnings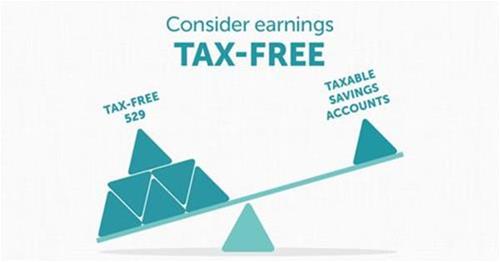 All of the money you contribute to a CollegeAdvantage 529 ​Plan will grow tax-free and you can withdraw all earnings tax-free, provided that the account is used for qualified higher education expenses. To see just how tax-free growth adds up with a 529 savings plan, use the tax benefit tool and immediately see the difference between a 529 plan account in comparison to a taxable account. Unlike a taxable account, a ​Ohio's 529 ​Plan ensures that every bit of investment growth is yours to use, tax-free. CollegeAdvantage has additional tools to help you estimate your higher education costs or set your college savings goals. As you research, always remember that time is your best friend. Over time, every amount contributed, big or small, will help you reach your savings goal.



2) Tax-free withdrawals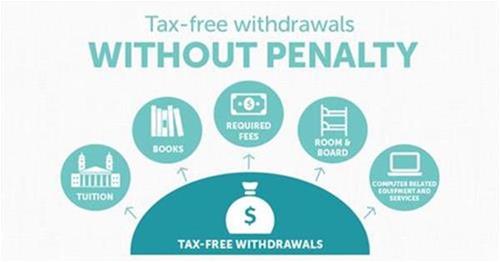 Not only does your CollegeAdvantage 529 plan grow tax-free, it also remains tax-free when the withdrawals are used for qualified higher education expenses. These expenses must be for eligible education institutions that have a Federal School Code through the Free Application for Federal Student Aid (FAFSA). The definition of a 529-qualified higher education expense is broad and includes many major costs, including: tuition, room and board costs during any academic period the beneficiary is enrolled at least half-time, computer equipment and related technology and services, mandatory fees, books, supplies, any equipment required for enrollment or attendance, and certain expenses for special-need students.
Some of the costs that are not qualified as higher education expenses include: Transportation costs, insurance, fees and equipment which are not required for enrollment, parking tickets, library fines, and payment for student loans.
Beneficiary enrolled in college are also to use their 529 account toward computers, educational software, and related expenses. Entertainment software, including gaming systems, do not qualify.
Additionally, qualified costs for apprenticeships — such as fees, textbooks, supplies, and equipment like required trade tools — now can be paid with 529 distributions. The apprenticeship program must be registered with the Secretary of Labor's National Apprenticeships Act in order to use a 529 plan withdrawal. Interested parties can check the U.S. Labor Department's search tool to confirm that a program is registered, and therefore, eligible for a 529 withdrawal.
529 withdrawals are also tax-free for the payment of the principal and interest on qualified education loans for the 529 beneficiary or the beneficiary's siblings. The loan repayment provision applies to repayments up to $10,000 per beneficiary. The $10,000 is a lifetime amount, not an annual limit.
Another 529 tax-free withdrawal us is for the payment of K-12 tuition up to $10,000 per student, per year, for enrollment at public, private, or religious elementary or secondary school. 529 distributions to pay for K-12 tuition is limited to $10,000 per year. Consult your qualified tax advisor for specific information.
Starting on Jan. 1, 2024, the newest tax-free distribution will allow any unused 529 funds (subject to the requirements listed below) to roll over to a Roth IRA for the same 529 beneficiary without incurring any penalty on the earnings. This new benefit will go into effect in Jan. 1, 2024, and you will be able to take advantage of it with your Ohio 529 account.
There are some requirements in order to use this new qualified distribution. First, a 529 account must be open for the beneficiary for 15 years. Second, the Roth IRA must be for the same beneficiary of the 529. Third, your contributions—which are also known as the principal—must have been in your Ohio 529 account for at least five years before the Roth IRA rollover. Fourth, you can only roll over 529 funds up to the yearly Roth IRA contribution limit, which is $6,500 for 2023. Fifth, the lifetime maximum 529 amount allowed for the Roth IRA rollover is $35,000.
There are still many clarifications and operational issues that will need to be resolved relating to this recent change. We will provide more information once available. Again, keep in mind change does not go into effect until Jan. 1, 2024.


3) State of Ohio tax deduction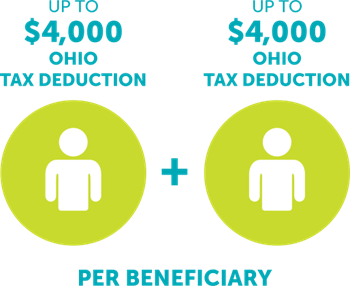 If you are an Ohio taxpayer, contributions to CollegeAdvantage may be deducted from your Ohio taxable income in any amount up to $​4,000 per year, per beneficiary, with unlimited carry forward. This means that $​4,000 per year is not a contribution cap. Should you choose to contribute more than $​4,000 in a calendar year, any amounts above $4,000 may be deducted in future years through unlimited carry forward. You can still deduct in increments up to $4,000 per year, until all 529 contributions have been deducted. If you have an Ohio College Advantage 529 accounts for each of your children, you receive the deduction to your Ohio taxable income for contributions made to each beneficiary's account. Non-account owners who are Ohio taxpayers qualify for this tax deduction when they give gifts for college directly to CollegeAdvantage accounts.
A bottom line benefit of a 529 plan? It's far cheaper to save money and earn interest in an account now than pay off students loans with accumulated interest later. With all the tax benefits offered with a 529 plan, your account can grow to reach your higher education savings goal. Learn, plan, and start for as little as $25 today at CollegeAdvantage.