The Toledo Walleye and Ohio's 529 Plan have teamed up again to help fans of the Walleye and college savings score a goal for their children's higher education through Spike's Reading Club, a program designed to encourage K-8 students in Northwest Ohio to increase their reading time and sharpen their learning skills
Two winners–one from the student sweepstakes and one from the teacher sweepstakes—each received a prize of a $2,500 college savings award. Katherine Garry divided her award between her three daughters: Mackenzie, Madeline, and Matilda. Teacher Jherilyn Tuttle, placed her college savings award in her son's, Brekken, Ohio 529 account.
The winners and their families were celebrated at an awards ceremony during the Walleye game against the Fort Wayne Komets on Sunday, April 16. Ohio's 529 Plan Executive Director Trisha Good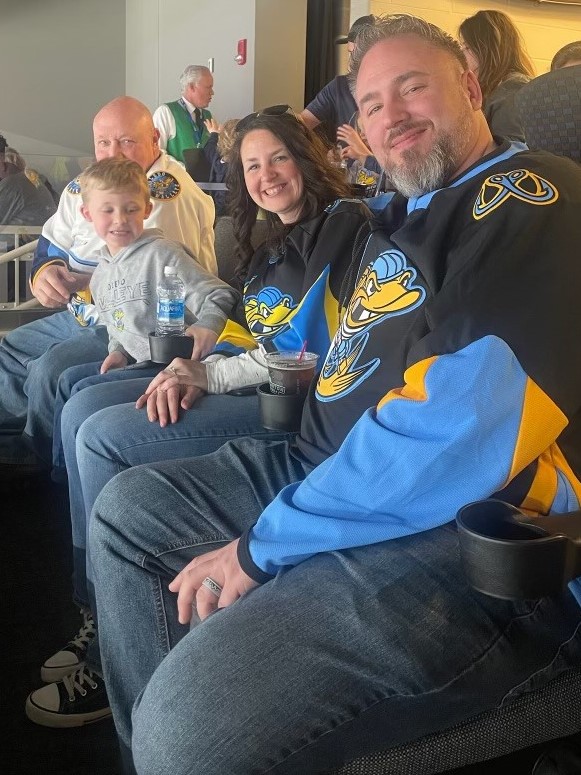 and Marketing Director Ben Gibbons gave Katherine and Jherilyn their checks.
Would you like to win a college savings award for your own CollegeAdvantage 529 Plan? Visit our blog page, and follow us on Facebook for announcements of future giveaways.
For more than 33 years, Ohio's 529 Plan, CollegeAdvantage, has been helping families across the nation save for their children's education after high school. Ohio's 529 Plan covers qualified costs at any four-year college or university, two-year community college, trade or vocational school, apprenticeship approved by the U.S. Labor Department, or certificate program nationwide that accepts federal financial aid. Start, add, or give a gift with as little as $25 at CollegeAdvantage.